Company Profile
Greeting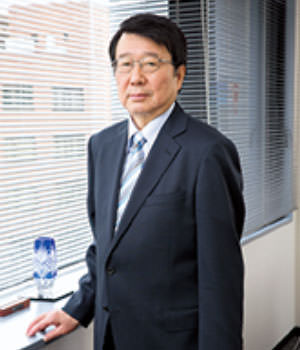 Tatsuo Mizunuma, President
Wakoyakuhin Co., Ltd. was established as a trading company specializing in industrial chemicals in 1949. Thanks largely to our business partners, the product items we offer and steadily growing sales, we have established a foundation for the paper, pharmaceutical, steel, electronic and food industry besides industrial chemicals.
We will strive to become a useful company for our customers and society. In addition, we will continue offering our business partners information swiftly and promptly and would request your continued and greater support to assist us in reaching our aims.
Management Philosophy
For our company, rather than inform suppliers about customer requests, we ceaselessly strive to add further value.
Through our trading company, we will do our best to become a useful and progressive company, with employees and stockholders in the same boat.
Management Policy
1. Provide our customers with the latest information and products.
2. Continue a compliance system and act in accordance with social norms.
3. Prioritize eco-friendly and high-quality products.
4. Strive to ensure our employees work in worthwhile jobs and have their efforts rewarded.
5. Aim to expand the company and improve employees' living standards.
6. Disclose appropriate information and return profit to stockholders via a dividend.
7. Further expand the scope of overseas transactions.
Basic Principles
Environmental issues are now becoming international problems . With this in mind, we think companies must stop at nothing to maintain the global environment conservation, which is a crucial component of social responsibility.
As a trading company specializing in industrial chemicals and food raw materials, we think our priority is to take action against environmentally conscious efforts.
Environmental Policy
1. We comply with applicable regulatory requirements concerning our environmental policy and requirements, to which other companies agree.
2. We established environmental objectives and targets, which we periodically inspect and review and we strive to continuously improve our environmental management system.
3. During our corporate activities, we strive to save resources and energy, reduce industrial waste as part of environmental conservation and control pollution.
4. We engage in communication with regional society and disclose the necessary information about our environmental policy.
5. Through our staff education and training, we will publicize our stipulated environmental policy to all employees.
6. We will support affiliated and cooperative companies in taking positive action toward environmental protection.
Company Profile
Name
Wako Yakuhin Co., Ltd.
Location
1-7-11 Kajicho, Chiyoda‐ku, Tokyo, 101-0044 JAPAN
Tel: +81-3-3251-7331 (representative)
Fax: +81-3-3251-7332
Established
June 21, 1949
Paid-in Capital
24 million yen
Business lines
Industrial chemicals, Raw materials for medicine, Synthetic resin materials and molding, Food raw materials and food additives, Chemicals for the paper industry, Sales of various vessels and equipment.
Qualification
Seller of poisons or deleterious substances, Seller of drugs, Seller of high-pressure gas
Bankers
MUFG Bank, Ltd. Odenmacho Branch
Mizuho Bank, Ltd. Nihonbashi Branch
Joyo Bank, Ltd. Tokyo Sales Department
Company History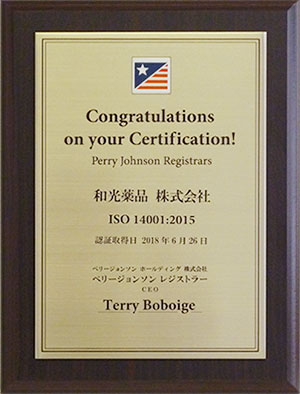 ISO 14001:
2015 Certification
| | |
| --- | --- |
| 1949 | Masao Mizunuma resigned from Edogawa Kogyosho Co., Ltd. (Now: Mitsubishi Gas Chemical Co., Ltd.) and founded the company with 200,000 yen. |
| 1971 | Capital increased to 12 million yen |
| 1976 | Capital increased to 24 million yen |
| 1982 | Ryosuke Mizunuma inaugurated as President and successor to the founder. |
| 2006 | ISO 14001: 2004 Certification |
| 2007 | Tatsuo Mizunuma inaugurated as President |
| 2015 | Relocation of headquarters. |
| 2018 | ISO 14001: 2015 Certification |